FABBRICA ITALIANA LAMIERE
QUALITY ASSURANCE
STAFF TRAINING
The FIL staff is highly specialized.
At the time of hiring, each employee joins a training course established according to the company's needs, but above all according to their potential and skills.
Staff training for FIL is a fundamental process that makes it possible to optimize work processes and ensure compliance with production schedules, without neglecting compliance with the rules on safety at work and environmental impact.
FIL is aware that only with highly trained personnel can it become a competitive Company: flexibility and professionality are the main objectives of internal personnel management.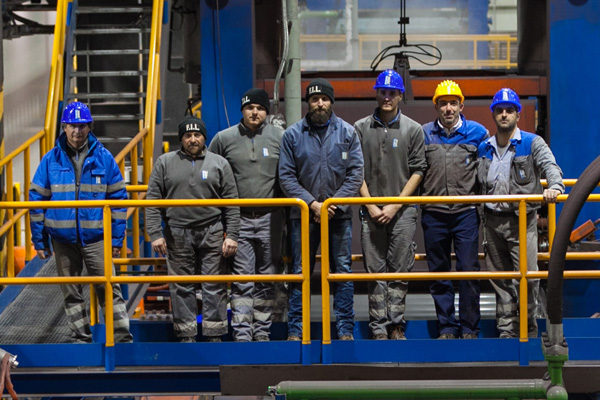 The training process at FIL therefore starts from a Training Plan that allows employees to acquire knowledge and skills according to the path established in agreement with the individual operator.
In addition, it allows to fill any gaps due to changes that may occur both internally (plant modifications, updating of work procedures, improvements in the management of Quality, Environment and Safety Systems) and externally;
With training, FIL wants to invest in the future of the Company and in the professional future of each employee; to do so, FIL always starts from a careful analysis of needs, from a choice of schools or internal tutors able to achieve the training objective and from a consequent evaluation of effectiveness.
FIL is aware that a worker guarantees a better result if the working environment is a serene one and one of mutual collaboration, for this reason it trains its workers to be professional and always encourages them to team up.
FIL will always include the development and strengthening of human resources among its objectives.
GUARANTEES
As we always respect the expectations of our customers, we also always ensure that we respect nature as well as our employees: solidarity, moral integrity and above all safety at work are our core values.
We ensure the efficiency of our staff who work with passion and dedication, creating products that fully meet your needs.
CE MARKING OF THE PRODUCT AND SYSTEM CERTIFICATIONS
FIL has obtained the Certificate of Conformity of Factory Production Control (CPR) and related CE Marking, according to EN 10025. It has also obtained the following certifications: Quality Management System according to ISO 9001: 2015 and Management Management System Environmental according to ISO 14001: 2015
In this way, we guarantee the maximum reliability of our products and maximum respect for the environment.
Lastly, FIL is implementing a safety management system, according to the new ISO 45001: 2018 standards.